NetStores E-Commerce Components
Configuring your store
Overview
In order to create functional NetStores E-Commerce HTML elements, you need to configure your store properties.
Launching the Dialog Box
On any of the NetStores E-Commerce Components Dialog boxes, click the Configure Store button to pop-up a dialog box where you can setup your store properties.
Dialog box details
You will be presented with a dialog box displaying parameters that are important for using your online store with NetStores (see picture).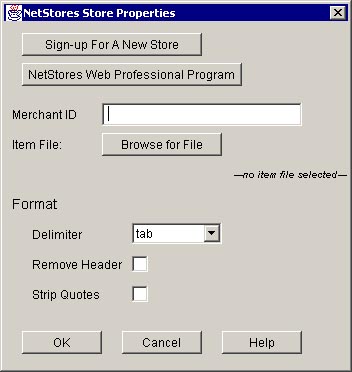 Merchant ID entry - Very Important!
Of ultimate importance on this dialog box is the Merchant ID entry box. You must type in the Merchant ID you chose when you signed-up at NetStores. If you do not remember what you chose, check your e-mail. By inputting the correct Merchant ID in this dialog box, you allow all the NetStores HTML elements (such as the Add to Cart Component), to "know" they will be used with your online webstore. You absolutely need to enter the appropriate Merchant ID on this dialog box for your NetStores E-Commerce HTML elements to function. This is the only piece of critical information you need to enter in this dialog, everything else is simply increases ease of use of the NetStores E-Commerce extensions.
The Item File - Making your job easier
Of secondary importance on this dialog box is the item file information (which makes up the bulk of the rest of the dialog box's display). Setting this allows you to easily select a product code for Add to Cart buttons. You need to select the appropriate parameters (and location) for your item file.
Make sure to keep your local item file settings up to date with your settings on your NetStores store.
Sign-up For a New Store
Press this button to take you to a webpage where you can create a new store. For more information go to Sign-Up at NetStores.
NetStores Web Professional Program
As a Professional Web Designer and Developer, NetStores is very interested in establishing a relationship with you and helping you use and understand our E-Commerce services should you need them. Additionally, NetStores would like to promote web Professional Web Designers who have worked with our shopping cart system, through our website at www.netstores.com and to our clients. Clicking the NetStores Web Professional Program button, sends you to the webpage where you can become part of the NetStores Professional Web Designer and Developer Program.
---
---
Copyright &copy 1999, Fishbone Communications, Inc. - NetStores &reg
Last Modified 12-10-1999