NetStores E-Commerce Components
Quick Search
Overview
To allow users to quickly search the products in your online store, you can use the "Quick Search" interface.
Before you use this...
For the Quick Search button to work properly, you must first Configure your NetStores Properties and add information for your online webstore.
Adding the Quick Search interface to a page
To add this link to your webpage, simply click the Quick Search icon

in the NetStores E-Commerce Toolbar, and then use the mouse to select a location for the Quick Search object on the page.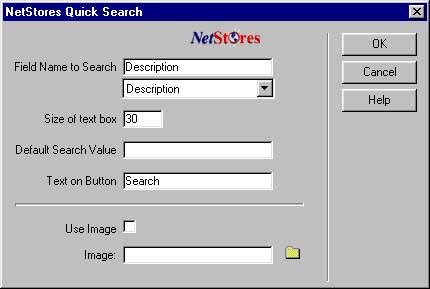 Quick Search details
Select the Field name to search (Name, Description, or Category) from the pull-down menu. Or, you may type in the field name if you have configured your store with other search fields. These search field names are the same names that show up in the results of a General Search.
Type in the default search value (the value that will appear in the text entry box and will be Searched for if the user doesn't change it), and the size of the text box where the user will enter what they want to search for.
Add other elements (sort-by, limit of search results per page) in the same manner as with the Driven Search Link.
Customizing the "look and feel"
You can also change the look and feel of the Quick Search button by selecting your own text or image for the button.
The last settings you used to create a Quick Search link will be saved for the next time you use the Quick Search object.
---
---
Copyright &copy 1999, Fishbone Communications, Inc. - NetStores &reg
Last Modified 12-10-1999