NetStores E-Commerce Components
Driven Search
Overview
The Predefined / Driven Search link is an easy way to link to lists of your products (even without having webpages for each product).
Before you use this...
For the Driven Search link to work properly, you must first Configure your NetStores Properties and add information for your online webstore.
Adding the Driven Search link to a page
To add this link to your webpage, simply click the Driven Search icon

in the NetStores E-Commerce Toolbar, and then use the mouse to select a location for the Driven Search link on the page.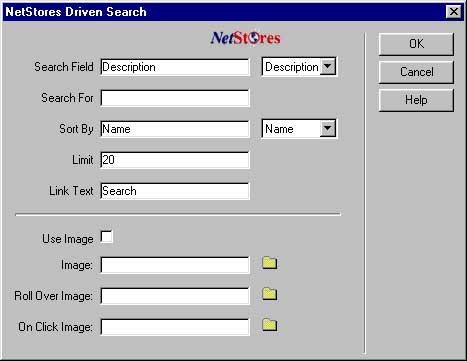 Driven Search link details
Select the Field name to search (Name, Description, Category, or Code) from the pull-down menu. Or, you may type in the field name if you have configured your store to with other field names. Type in the value to search for (for example, search for all products with 'Description' containing 'sprocket'). These search field names are the same names that show up in the results of a General Search.
Next, select which field to sort-by (Name, Description, Category, Code), and type in the maximum number of "hits" you want to be displayed on the results page.
Customizing the "look and feel"
You may select the Link text / image as well as roll-over and onClick images to suit your preferences. Whether or not a roll-over or onClick image is used is determined by the presence of an image URL in the appropriate text box. To not use roll-over or onClick images, delete these URLs. To not use any images at all (a text-only button), set the "Use Image" check box, to unchecked.
The last settings you used to create a Driven Search link will be saved for the next time you use the Driven Search object.
---
---
Copyright &copy 1999, Fishbone Communications, Inc. - NetStores &reg
Last Modified 12-10-1999