NetStores E-Commerce Components
View Cart
Overview
To enable customers to view / modify their orders from your online webstore, you can add the NetStores "View Cart" button to web-pages.
Before you use this...
For the View Cart button to work properly, you must first Configure your NetStores Properties and add information for your online webstore.
Adding the View Cart link to a page
Simply click the View Cart icon

in the NetStores E-Commerce Toolbar, and then use the mouse to select a location for the View Cart link on the page.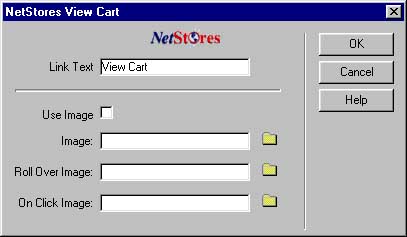 Customizing the "look and feel"
You may select the Link text / image to suit your preferences. The last setting you used to create a View Cart link will be saved for the next time you use the View Cart object.
---
Copyright &copy 1999, Fishbone Communications, Inc. - NetStores &reg
Last Modified 12-10-1999