NetStores E-Commerce Components
Sign-Up
Signing-Up
NetStores allows you to get into E-Commerce quickly and easily. We provide everything you need to setup a webstore, you don't even need to have a website or experience with web development.
To Sign-up with NetStores, from within NetObjects Fusion, click on the Sign-up For A New Store button on the NetStores Store Properties dialog box (see picture). This will take you to the webpage where you start the sign-up process. If you need help with this process, see setting up your store.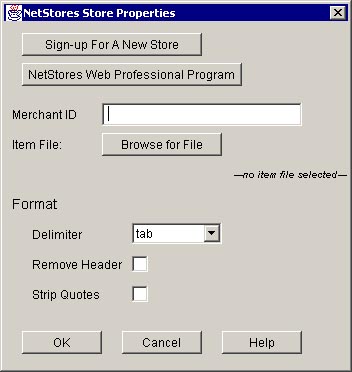 First, you must Sign-up with us to create a new store. When you sign-up, there is no obligation to pay any money yet, you can "check things out first" if you wish. If you do wish to setup a store, check out our products and prices and contact NetStores.
---
Copyright &copy 1999, Fishbone Communications, Inc. - NetStores &reg
Last Modified 12-10-1999